Would you like to try Kat's Private Group for only $1!?
---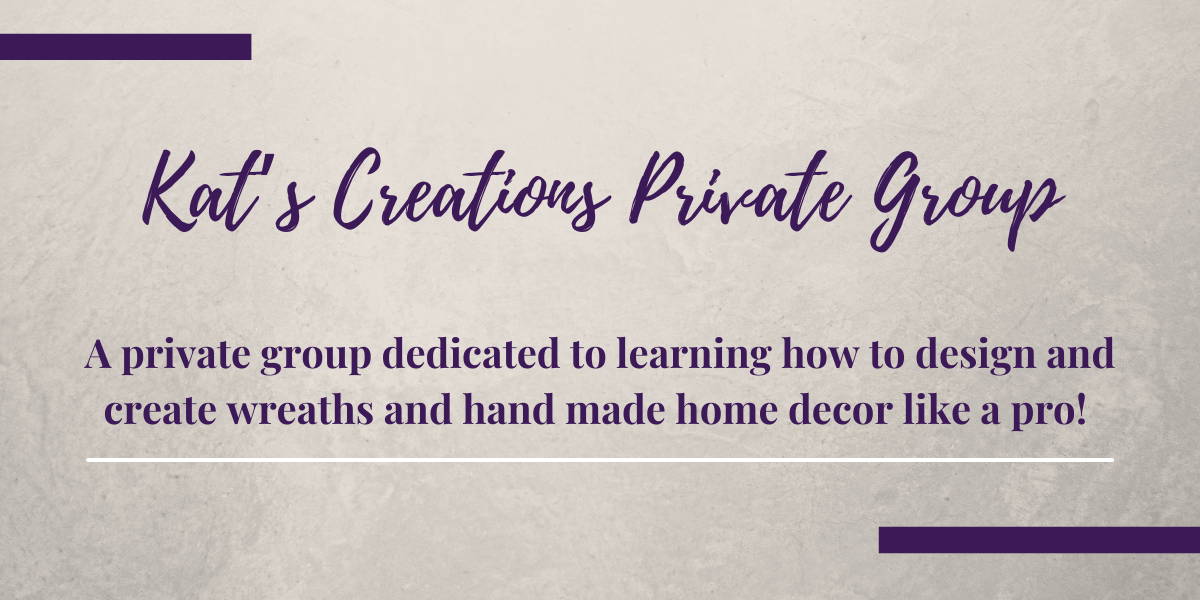 Are you tired of attending all those high priced wreath making classes where you find yourself in large groups where you can't get that individualized help you need to make your own wreath?
Are you tired of watching replays over and over hoping to catch exactly what materials they're using or where they found that particular item you need to make your own?
Are you tired of learning the same techniques over and over?
Are you frustrated with not being able to coordinate ribbons with your mesh?
Are you ready for some variety and want learn to make additional home decor?
Are you wanting to create income and are  interested in also learning how to sell your wreaths?
---
"About 6 months ago I decided to turn my love of crafting into a business. With my prayer, God introduced me to Kat. She has been an inspiration for my wreath designs and her knowledge of the business is priceless. She shares everything she knows in a friendly and information way. She has taught me about setting up my shop in Etsy and Facebook. She has taught me how to market my brand on Instagram and Pinterest. I am unable to work outside the home due to medical issues. Kat has given me the opportunity to work from home at my own pace. With her knowledge of the business, she has given me the ability to run a successful business from my own home. She is a priceless teacher and business coach. " ~ Cheryl L. 
---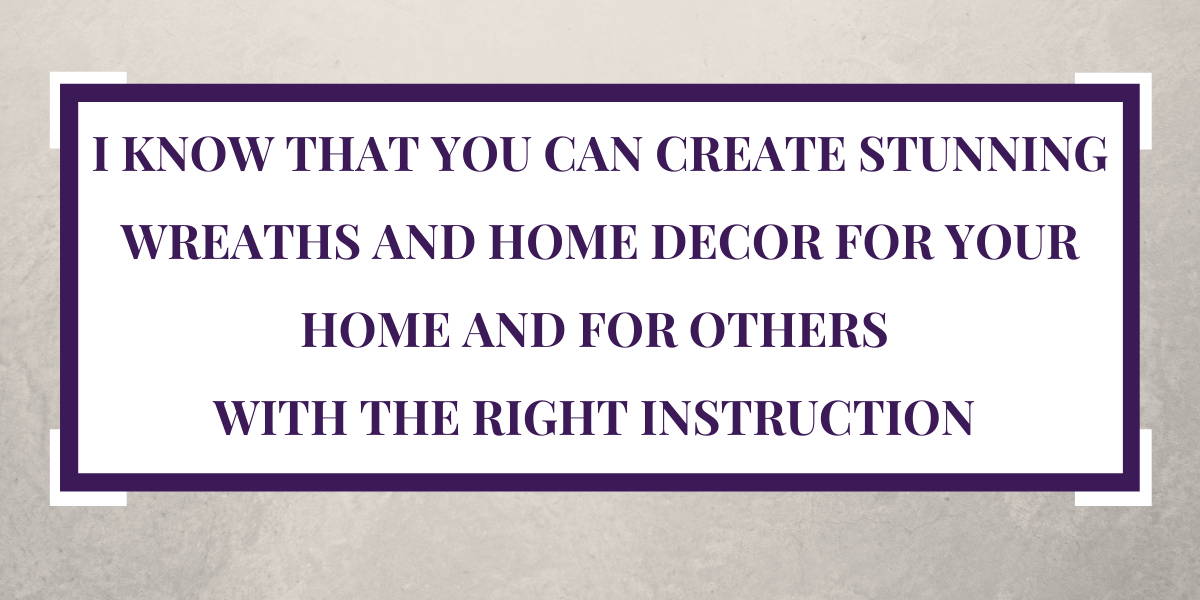 ---
You will have all of your questions answered by me, and won't have to worry about
being overlooked in a large class
You won't have to watch a pre-recorded class over and over again for every single step.
You CAN create an income designing and selling wreaths if you desire, 
because I'll lay out the steps to help you get there!
---
"I've only been part of Kat's Private Group for a short time but it has been amazing! Kat is a wonderful teacher willing to share her talent for making beautiful wreaths and her knowledge for find great deals on wreath making supplies to help us grow and build a business for ourselves. I am very grateful and appreciate all her help and for making us all feel like we are friends, uplifting each other with positivity and encouragement to be successful." ~ Sandra S.
---
As a fellow creative, I've been where you are and I now know all of the important steps for success and also know what doesn't work
I know strategies to help you succeed
I know that you need support and one-one-one attention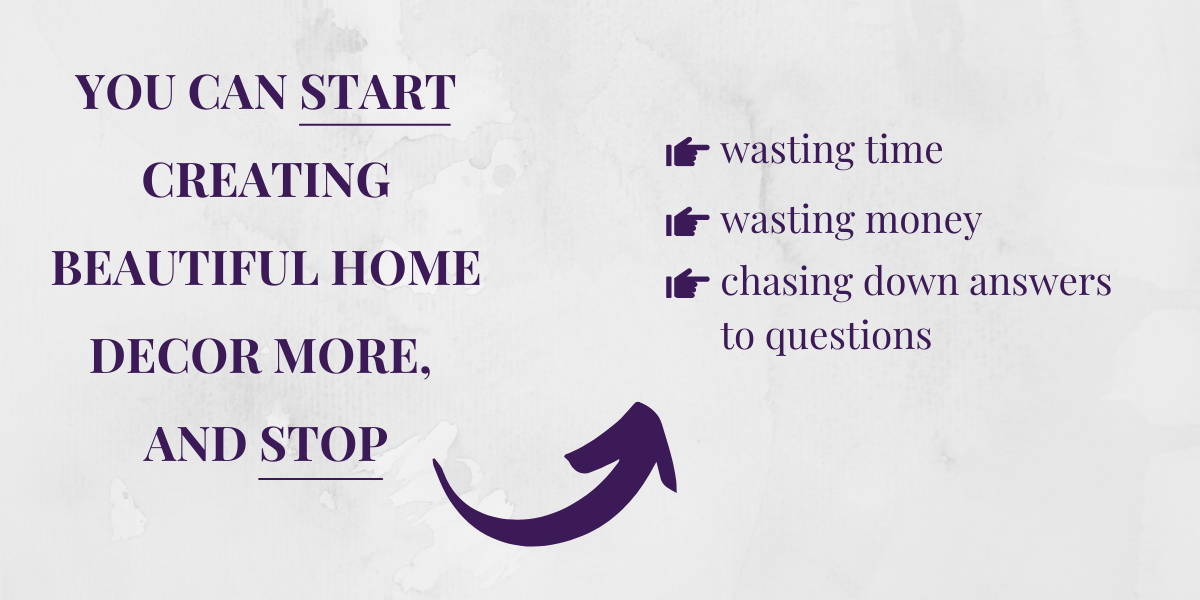 - All of  the training that you need to create beautiful wreaths and home decor
- Exclusive private access to ALL Kat's Creations Private Group video library
- LIVE, personalized videos giving you step by step instructions on how to create professional, quality wreaths, centerpieces, swags, or business classes.
- LIVE events will be posted in the Facebook group so you can know the specific dates or times of the classes. If you are unable to watch a LIVE video, the replay will be posted to group so you
can watch it at a time that is convenient for you
- You will get the best camera angle for whatever project we are making to ensure you
have the best understanding of the project details
- You will learn specialty designs projects for the holidays like Sunflower Wreath,
Table Centerpieces, Lantern Swags, Garlands, and MORE!
- You will have access to all the materials Lists for all public and private Facebook LIVES.
- I'll share with you all the tools I use and where I bought them making wreath making
and home décor designing easier.
- You will learn how to pack and ship a wreath
- You will learn all of my professional wreath making techniques and secrets
that I have learned over the years.
---
WHAT CLIENTS HAVE TO SAY
"I've watched so many wreath making videos but in the three months I've followed Kat in her public group and 2 months in her Private Group, I've learned more than I could have imagined. I highly recommend joining her Private Group. You won't be disappointed." ~ Cheryl P.
"I've been a member since February of 2018, and to say that Kat is a wonderful instructor but more important, a fantastic person, is an understatement. She has the patience and knowledge to make her tutorials easy to follow. Your final products are always beautiful and if in any doubt, post it and not only will you have Kat's invaluable input, but you get a super supportive group of women (and Steve) who always have your back. " ~ Vi
"Kat's Private Group is very informative, organized and very enjoyable. Kat and Steve make you feel at home. I am learning so much. Kat is very responsive to your questions and posts. I am so glad that I chose Kat's Private Group to learn and grow." ~ Pamela R.
"Kat is an awesome teacher, patient, and very thorough in her teaching skills. I would recommend this class to anyone making wreaths, small class and interacts with each and every person to make sure they understand what she is doing. On top of that she is a very godly woman and her faith shows through in her kindness and eagerness to help those of us "wreath-challenged." ~ Pamela B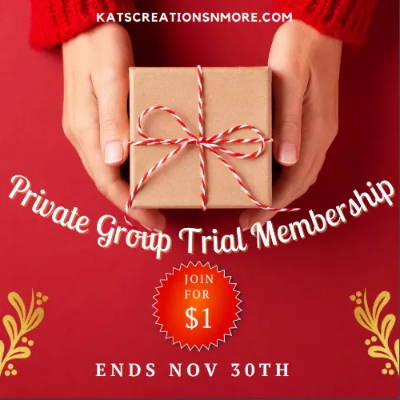 ---
---
Please note: $1 for the first 2 weeks and after that you will be billed $27 each month until you decide to cancel. If you decide during the trial that Kat's Creations Private Group isn't right for you, please ensure that you cancel during the trial period, as no refunds will be issued for the first regular billing cycle.
---