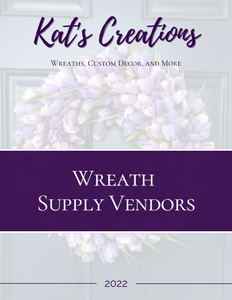 Kat's Creations Wreath Supply Vendor Ebook
Regular price
Sale price
$9.99
---
One of the first struggles I came across as a new wreath maker was where to buy the best quality supplies at affordable prices. When you start out as a wreath maker, you really want to ensure that you are not wasting money buying supplies that will frustrate you more than help you and to deliver a high-quality product without spending more than you need to.
Do the local retail stores really deliver the best deals?
 Where do you even begin to find hard to find items you might want to create your designs?
 Do I really need a business license to get the best deals?
 What's the difference between retail and wholesale prices?
 How can I find the right places to buy and get free shipping?
 Are there local places near me that I can shop at that I didn't even know existed?
 Do you want to know the best places online that can deliver a wide variety of wreath making supplies without having to go to more than one store?
 Wouldn't it be great to have it all in one place easy place, so you know right where to go to find just what you need?
 This is the very reason I created the Kat's Creations Wreath Supply Vendor List. I have been accumulating this list for the last 5 years and have compiled 39 local and online retailers that anyone can shop from without needing a business license, in addition to the top 9 wholesalers that I have purchased from.
 You will get my preferred list along with contact numbers, website links, local addresses if possible and what each business makes so you can always have this reference right at your fingertips.
Also, you will be provided with a list of vendors that I use exclusively in my Private Group to offer discounts to Members, just in case you decide you'd like to get a discount when you sign up as a Private Group Member. Trust me, you'll want to join the exclusive group.

This is the most up to date guide and truly does make finding just the right supplies you need to make a wreath or home decor so much easier because it is all in one place.
The cost of this valuable resource is $ 19.99, and you will be able to receive a download to print out for your personal use to begin using today. I know you will absolutely love being able to find sign vendors, floral supplies, wreath forms, wreath kits and so much more from the convenience of your own home, with the online ordering option each business provides.
Please note, due to the digital nature of this product, all sales are final. If you have any questions, please contact me prior to purchasing.