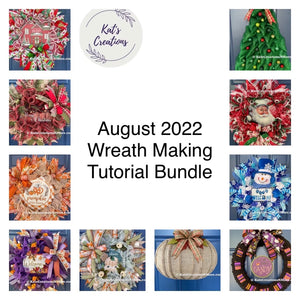 August 2022 Wreath Tutorial Bundle - Instant Download
Regular price
Sale price
$9.99
---
Kat's Creations N More August 2022 Wreath Tutorial Bundle
You are NOT buying a physical Wreath or product. This is a bundle of all my materials lists/instructions for all 10 of my public designs for August 2022 for one price. 


This bundle features materials list for the following designs:
2022 Lighted Christmas Tree Wreath
Burlap Pumpkin Wreath 
Halloween Yarn and Ribbon Wreath
Welcome Pumpkin Fall Wreath
Purple Fall Pumpkin Wreath
Pumpkin Spice Season Wreath
Santa Claus Christmas Wreath
Snow Welcome Snowman Wreath
Country Merry Christmas 2022 Wreath
2022 Home for the Holidays Christmas Wreath
There are 10 materials lists with instructions and photos, that define what technique, how many and how long of each item used in the construction of the design featured. You can find all the video links on below each material list for the wreath making tutorial, under video link. 


I do not guarantee the availability of each design's materials as most vendors might be out of a particular mesh type, color or ribbon design. However, you can easily substitute it for something similar to complete your design. Please be advised if the SKU or Item number is not available, it generally means it is sold out for the season. I don't have any control over the supply quantities of the materials available. 

This listing provides you with the ability to download all the August 2022 detailed materials list of the items used to make each of the wreaths shown above. 

Since this is a digital download, there are NO refunds of this product. If you have any questions, please contact me directly before purchase. 

By purchasing these video tutorials, you are agreeing not to share the information on social media on any platform. This is solely for your personal use.  If you do sell your wreaths and people want to know how you make them please direct them to my tutorials at KatsCreationsNMore.com. Happy Creating!